Lunch Programs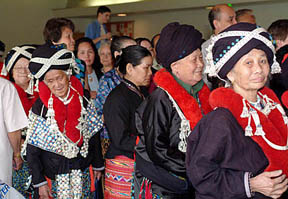 Ethnic lunches are served Mondays, Wednesdays and Fridays for 5 groups in three sites. Programs usually run from 10am to 1pm
Program held at FCS
5740 Martin Luther King Jr. Way
Seattle, WA 98118
Mondays
Program held at BUMC
7301 Beacon Avenue South
Seattle, WA 98108
Wednesdays and Fridays
Program held at FCS
5740 Martin Luther King Jr. Way
Seattle, WA 98118
Wednesdays and Fridays
Program held at FCS
5740 Martin Luther King Jr. Way
Seattle, WA 98118
Wednesdays & Fridays
Program held at Southgate Masonic Temple
1004 SW 152nd Street
Burien, WA 98166
Wednesdays & Fridays
Food Bank
Mondays at FCS (APO)
Fridays at The International Drop-In Center, Lao Senior Club Community, Hmong Senior Club Group, and Samoan American Pacific Organization.
Other Health-Related Programs
Enhance Fitness Program
Ethnic Dance, Music
Blood Pressure and Diabetes Monitoring
CPR Classes
Health Fairs
Job Fairs
Cooking Demonstrations, Food, Nutrition Presentations
Refugee and Immigrant Assistance
Citizenship Classes Wednesdays and Fridays for Laotian, Hmong, and Mien refugees 10:00 – 11:30 a.m. at
5740 Martin Luther King Jr. Way
Seattle, WA 98118
Isolation prevention activities like picnics and outings yearly.
Transportation Assistance, free metro bus, shuttle rides.
Incorporate the refugees to our lunch programs.
Employment Assistance, information, referral, translation and interpretation services.