Board of Directors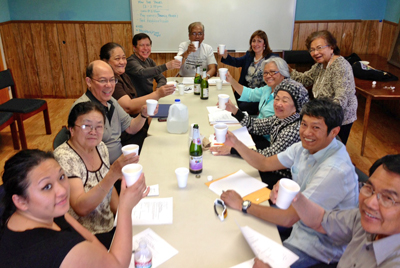 PAEP's policy making body blends ethnic diversity and balanced expertise in social, community and business experience.
The Powerhouse PAEP Board of 2014
Names
Ethnicity/Position
Background
Norberto Caoli
Chairperson
Filipino
Retired Boeing Civil Engineer
6 term President Filipino Community of Seattle
Outgoing Bitwin Lion's President
Incoming District Governor Lions International
Baybang Hatsabout
Vice Chair
Laotian
President, Founder Lao Senior Club
Pioneer in establishing ethnic organizations
Fa'amaile Frost
Secretary
Samoan
Community advocate International Community Health Services
Former teacher
Lydia Palma
Treasurer
Filipino
Retired Accountant 38 years, Alaska air
3 years as community worker in Laos, in a medical mission, more than a decade as a community leader in the Filipino Community
Delia Vita
Asst. Treasurer
Filipino
Banking, Finance & Expert for over decades and now a board member of the Filipino Community of Seattle
Obdulla Castillo
Member, IDIC Representative
Filipino
Director of Activities International Drop in Center (IDIC)

Multi awarded community leader former President Filipino
community center , retired teacher

Taitaga McFaul
Samoan American Pacific Organization (SAPO) Representative
Samoan
Banking Expert, Grant writer and community leader
Chia Sa Lor

Hmong Senior Club President, Joined PAEP Board in 2014
Group leader for the Hmong/Mien group.
Chong Thao
Hmong
Decade experience as
a volunteer of Hmong
Sr. Club, farm work
experience and Church leader for the Hmong.
Cristina Vasconcelos
Joined PAEP Board in Feb. 2012
Brazilian, American, PAEP Executive Director since July 2013
Professional Grant writer and fundraiser and management expert.
Speaks fluent English, Portuguese, French and Spanish.
Faamomoi Masaniai

American Polynesian Organization (APO)

Executive Director, Samoan

Group leader and treasurer for APO.