Breaking News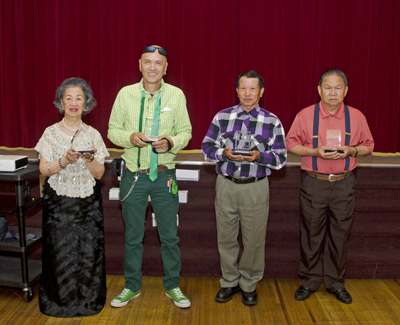 1. A United Way and Office of the Superintendent office grant for a Summer
Meal Program for low income students 18 years, was awarded with over a 250 students joining our summer lunch program supervised by trained staff teaching students math, reading, computer, games.
2. Congregate meals program extended till December 2014 by the City of
Seattle in partnership with Senior Services of King County. PAEP's good performance was recognized and we received an additional $16,000
increase grant from the City to serve the overflow of clients in past years.
3. The Federal Government has awarded ACRS with a sub grant for PAEP
in its path for Citizenship for the period Oct. 1 2012 till September 2013.
4. Smiles Across the Pacific a smashing success with 400 community
leaders attending.
5."Passing of the Torch", 2013 PAEP Fundraising Event, raised $10,000 and brought together over 300 community leaders, including Seattles Mayor
6. P-Patch farm project to expand production of organic produce awarded to PAEP to improve output of Yao Fou Chong farm that will donate harvest to the five sites of PAEP and its clients.
Challenges
1. Fear of poor health, of being hungry and alone. Our survey revealed that the most common health problems of our clients are high blood pressure, heart disease, diabetes, arthritis/back problems. Our program provides healthy meals, exercise, blood pressure monitoring and access to health and social assistance. Seniors also indicated that they fear being alone and hungry. Socialization is very important to prevent depression and loneliness and PAEP provides social networking for the elderly.
2. Fear of language and cultural barriers in dealing with mainstream government and private offices. Our program provides them an opportunity to get help from our volunteer interpreters and networking with agencies sympathetic to the ethnic communities.
3. PAEP's service gap, due to excellent work – we have earned the trust of our clients. We have about 1000 clients with 500 as regulars. There are so many more things we can do to address their fears and concerns, however, funding, limited staff and resources pose a major problem for PAEP.
4. Please help PAEP by sending your tax deductible donations to PAEP at 270 So. Hanford Street, Suite 204, Seattle, WA 98134. Any amount will help
5. Due to the economic meltdown, meal attendance at our 5 sites has increased 20%. This means that PAEP has to look for additional funding sources as we do not turn down clients who come in hungry for a healthy meal.